---
Introducing…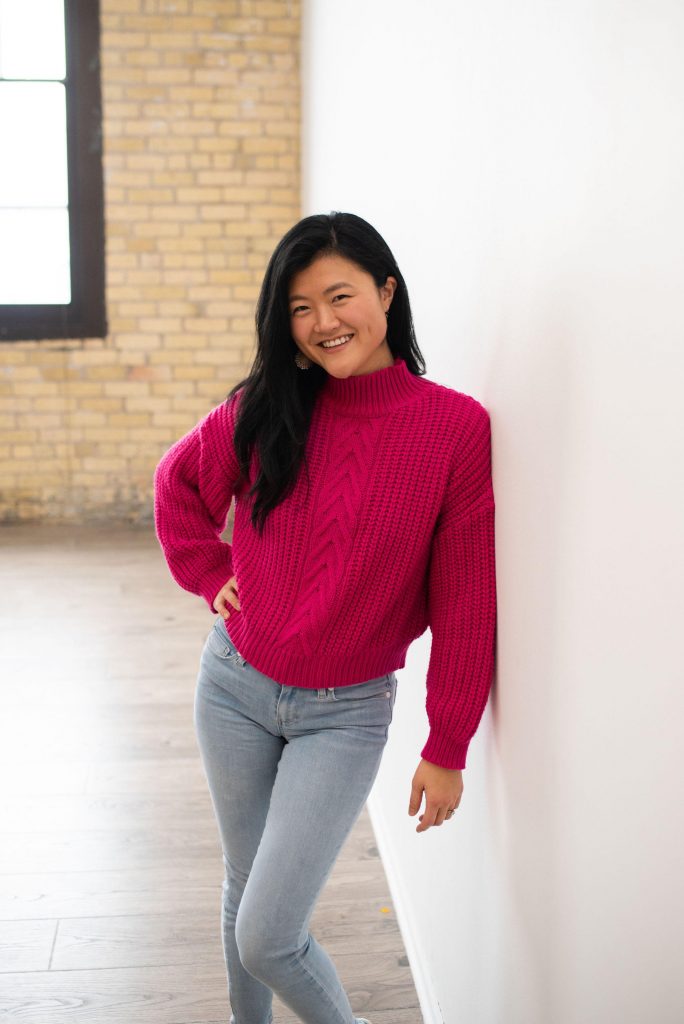 Cynthia (she/her), Founder and Owner of Mighty Mama Coaching, LLC., is a Nationally Board Certified Health & Wellbeing Coach (NBC-HWC) and Cynthia obtained her Psychobiology B.S. from UCLA and has her Masters in Integrative Health & Wellbeing Coaching program at the University of Minnesota. She is a certified yoga and pole dance instructor.
---
IVY UNLEASHED
Andrea & Brooke invited the brilliant and vibrant Cynthia Shockley to discuss an interesting topic- sensuality. But first, they had a guided, sensual movement session that created a lot of emotion and energy.
Cynthia found healing and freedom by exploring her sensuality and is helping others to do the same. As the owner of Mighty Mama Wellness, a company that helps "ignite purpose, passion, and joy for the Mamas of the world," Cynthia is creating the village and culture that she knows she can rely on when she becomes a mother.
Tune in to hear a high-energy, empowering message that will inspire you to own your sensuality and trust your intuition as you lead the life of your dreams.
Behind-the-Scenes Video
---
Episode Highlights-
First trained as a pole dance instructor, Cynthia found healing in sensual movement. Growing up, Cynthia was a dancer. Dance provided her an outlet where she felt powerful. Growing up she also experienced racism and in high school she encountered her first sexual assault. In her experience with sexual assault, she felt as though she didn't own her body.
Fast forward to her sophomore year of college at UCLA, she received a call from her mother that would forever change her life. Her father was diagnosed with a brain virus and could no longer work as CEO of his beauty company and her mother needed her to come home and help. That year would be a year of healing not only her relationships with her parents, but also her relationship to herself and her feminine power. While back home that year, Cynthia needed a way to take care of herself and get back to what she loved- dance. Thanks to a Groupon and the closest dance studio being pole dancing, Cynthia embarked on another journey she didn't see coming.
She entered a dark candlelit room and saw women from all walks of life in their underwear. For an hour, Cynthia was led through a guided practice of touching herself in a fluid motion. The next 30 minutes were all about pole dancing and the last 30 minutes were dedicated to play time. Not only was she getting back to her inner child of play and feminine energy, but she felt like she was in a safe place to just be. The women in the room didn't care who she was outside of that room, they celebrated and encouraged her to own her body and celebrate it.
This practice is one that Cynthia recreates for her clients, helping them get back to their feminine power.
Why do we lose our feminine power?
Cynthia explained that if you look at any young girl who hasn't been tainted by society, you see that it's so organic for them to swirl and twirl. As we age, there becomes a power dynamic of "we have to control women's and girls bodies", she explained. Cynthia specifically remembers being 10 years old and running around naked after a bath when her grandmother stopped her and asked if she was ashamed of herself. That she's a girl and she should cover herself up. Cynthia remembered, "how can I be ashamed of who I am and the body I have?".
"You look at children and they move with such freedom and then along the way we're taught that's too sexy, you're sending the wrong message and you start to go from hips stay stable and don't sway", Cynthia argued. So when you're in a space where you can move freely, people don't feel the right to take themselves seriously. We noticed this firsthand as Cynthia guided us through a sensual movement practice before recording and we giggled through the whole thing, feeling extremely uncomfortable as we caressed our bodies. When we asked Cynthia why we're so uncomfortable to move like that… so uncomfortable in our own skin?" She responded that it's "because you've been trained to feel uncomfortable to move like that."
How did Cynthia get back to her feminine power? She told us that she couldn't have done with without others, without being with women who walked the journey and supported the vision for something different. Women who have challenged the male gaze, and that we belong to men. She gave herself permission to lose herself in the music and to be uncomfortable until it became comfortable.
It started by putting herself in the situations with women who showed her it was safe to get back to her truth. She started allowing her body to soften and stopped being so hard on herself that she's not the size she was in high school. She started practicing radical self-love and self-acceptance. She shared with us, "I have enough of that connection to that inner wisdom that it's just thoughts that have been planted in my head and it's not the truth. I'm just grateful that I have that mindset shift."
What has Cynthia noticed since becoming more sensual?
Dr. Rachel Allen wrote a book titled "The Pleasure Is All Yours" and she is a self proclaimed pleasure expert. Cynthia explained that she calls it bodifulness instead of mindfulness. "It's being fully in your body because so many of our experiences have taught us to detach from our body and to disidentify with it". Cynthia further explained that by building up the bodifulness, she can be more present, she can ask for what she wants because she values and respects herself. She can stand up for herself and pursue what she knows without questioning if she deserves it. She has been able to live a life where her pleasure is a priority. She explains that whether it's the "pleasure of eating that cookie, taking the Saturday to lounge around- it's about what's right for me in the moment because I love and respect myself."
Cynthia has built her confidence from the outside in with sensual movement. She explained that her body was her pathway to freedom. By first learning to own her body, she can now fully believe that she owns her life. She explained that she was pre med and was miserable. She didn't want it, but it was expected. She felt pressure to follow through with a childhood dream that was based in glory and not about her, but to satisfy others. In learning to own her body, she learned how to listen to her truth. She said no to reapplying to medical school and said yes to a Master's in Health Coaching. It felt right to her and she listened. The day after she got her final rejection from med school she saw a Facebook Live promoting the health coaching program she enrolled in, believing it was a sign. "I recognized that all the judgment I was anticipating, the rejection I was anticipating, ultimately they just wanted me to be happy and when they realized this path made me happy, the qualms disappeared," Cynthia explained. "It was a blessing to stand up for myself and choose a path that I know is right for me and to learn that I have my family's unconditional love."
It's important to note that yes you will ruffle some feathers, people will have judgments. However they're going to have judgments no matter what you do, this is your life, your one life.
Cynthia recommends finding practices that bring you back to your heart and soul. These practices will help you start releasing the shame and start building self-acceptance and self-love. For Cynthia it was sensual movement, it was a way of freeing herself from the shame, the guilt, the 'shoulds'. "It's about creating movements throughout your life where you can interrupt that pattern and come back to yourself," she explained. One practice in particular that Cynthia loves and that she guided us through was feeling through your fingertips. Your fingertips are full of nerve endings. We use our hands all day everyday, but we don't really pay attention. When you live in your fingertips (invite the touch, use your thumbs to graze across the other fingertips to wake up your body), it's an immersive way to start feeling and getting back to the present moment.
Mighty Mama Wellness- Why Moms?
While helping her mother run her father's company, Cynthia view on her own mother drastically changed. Everyday the two of them would drive to Southside Chicago and throughout that process she got to experience her mom in a whole new light. Their mother-daughter dynamic started turning into a partnership and she gained so much respect. Growing up her mother was a full-time mom and she looked down on her. During this year, they spent 3-4 hours in the car everyday and had a tissue box in-between them. Her mother shared her self-doubt and how powerlessness she felt. Cynthia explained that it was beautiful to see after a year of soaking up the misery and feeling like she got handed the worst cards, over the last decade she's been able to see her mom own the life, and that's is part of why she wanted to work with moms. She got to see her own mom transform.
Moms have the power to create the legacy they want. The legacy you leave behind is how people feel when they think of you- let it be joyful and loving, Cynthia urged. She went on to say, "it is in the darkest of times when you have to create your own light source. And if you're not happy- you can change it". Start by finding a community for support.
Cynthia's business tagline is "Know Your Power, Live Your Legacy". The target demographic that she works with are moms or women planning to be moms one day. She stated, "moms are the glue in their families. When moms stop taking care of themselves, they give and then deplete themselves… As my mission I want more women to really know that they have the power to live an intentional life. They have the power to change things around. If they don't like something, there's a solution out there, and there's ways to overcome barriers… They have the power to influence their families and communities around them with their joy, with their pleasure and living their most happy life… If more women just followed their intuition and their desires, this world would just be such a better place."
Cynthia always thought she wanted to work with kids. She spent a year teaching yoga to kids and realized that the hour she has with them could be the most amazing hour, but then they go home to their parents. When they come back to school the next day, what happened at home had way more of an impact. This was her light bulb moment that showed her her calling was to to work with parents.
She shared a study that reported women reinvest 90% of their income back into their families and community. Think about the investment you can put in yourself and it will radiate out and spread out to your community. It may seem selfish to invest in yourself, but it isn't. By investing in ourselves, we can then overflow to the people around us. You can't pour from an empty cup. You are worthy. The people around you need you to take care of yourself. Taking care of yourself is the most generous thing you can do.
When you're in that uncomfortable space of 'can I?', that is the perfect time for health coaches to come in and help you see you can. Cynthia loves helping women transform their 'shoulds' and 'have to's' to 'I get to's'. She loves helping them see that they can plan for a different way and how changing their mindset affects their families and communities.
Mighty Mama Wellness offers various healing programs including 1:1 coaching, sensual guided movements and workshops. In her workshops she collaborates with other women in the wellness space. Each month she shines light on different topics like babies changing your bodies, sensuality, chiropractic, and more. Her business is membership based, including weekly yoga, access to the monthly workshops, monthly meetings with the community, video archives of past workshops and 20% off all things coming up.
Who does Cynthia work with?
Anyone who identifies as a women and a mother
Anyone woman who has children that look up to her and sees her as a role model (doesn't have to be biological children)
A mother who feels lost in their sense of identity
Empty nesters who just sent their last child off and are thinking 'now what?' and are looking to get back to them
A women who plans on being a mother someday- it takes a village, establish that village now- once you're a mom there's a lot going on. Establish habits and patterns for when that time comes now.
Cynthia wrapped up our conversation by explaining that shame thrives in silence. She believes communities are so important where we can share that shame, so it can be seen and then shrivel up and disappear. Ask for support where it's needed, she encouraged.
---
3 Gold Stars
Seize moments for spontaneous pleasure and play- things like grabbing that scone with your coffee or putting lotion on with your eyes closed and indulging in the sensation or letting the child take the lead if you're a mom or around children and just play with them. Let their imagination take you on a journey.
Share your shame story with someone. If there's something that you're holding and you feel shame around it… shame thrives in silence. If you can speak that out to someone who you trust, someone who will validate your experience and provide support, please share it.
This right now is your permission to play, to relax, to indulge.
Ivy Reflection

s
When I think of 'play', what comes to mind? How can I schedule more playtime into my calendar?
What shame story am I carrying? Who can I tell it to to give it a voice and then let it go?
When was the last time I invested in my growth or happiness and how can I plan on it in the next month?
Piece of Gold
---
Resources–
Find Cynthia Shockley on-
Instagram- @mightymamawellness & @imsimplycynthia
Website- mightymamawellness.com & mightymamawellness.podia.com
Waitlist for a Permission to Play Again Series-
https://mightymamawellness.podia.com/permission-to-play-2-0
For those who want to take a single class or the whole recorded series, they can see the options on the general page- mightymamawellness.podia.com 
Work with Catherine Gagnon-
Energy, health & relationships wellness coaching-  www.catherinegagnon.ca/en
Find Gold Ivy Health Co. on-
Website- https://goldivyhealthco.com
Instagram- https://www.instagram.com/goldivyhealthco/ 
Facebook- https://www.facebook.com/Gold-Ivy-Health-Co-103783871542834
TikTok- https://www.tiktok.com/@goldivyhealthco?lang=en
YouTube- https://www.youtube.com/channel/UCXBMqcMHUwkToYb-kkAuD_w
---
We thank you for joining us in the fearless pursuit of self-discovery and growth.
Our hope is that you transform our lessons into your gold.
Listen to your truth and go chase your gold.
– Gold Ivy Health Co.